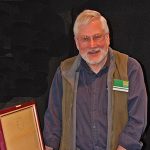 Furniture, boxes and turning
Some 18 months out from my projected retirement I enrolled in the course in fine woodwork at the School of Art, Australian National University, as part of the non-degree Visual Arts Access program.  Although I had had an interest in woodworking for many years, it was only under the instruction of Greg St. John at the School that I realized how much there was to learn about fine woodwork, and how much I didn't know!  In the five years with Greg I acquired not only an excellent grounding in woodworking techniques but also an approach to woodwork that could perhaps be summed up as: 'good enough' is never good enough.
And so I retired at the end of 2003 to what has turned out to be the life of a full time amateur woodworker.  I am happy for each piece to take as long as it takes, and until recently my output has usually been no more than five to six pieces a year.  However, recently I took up turning and I have now reached the stage where I can produce a turned piece in one or two days compared with the one or two months, and often more, for a piece of furniture or a jewellery box!
If there is a common thread to much of my work it is 'contrast', whether that contrast comes from using different species, non-wood materials such as stainless steel, mother of pearl and glass, or contrasting colours within the same species.
I have been a member of the Guild since 2006 and over the years I have won a number of prizes at the annual exhibition run by the Guild, including Members' Champion on two occasions.
Justin McCarthy, July 2012
Justin McCarthy passed away in Canberra in 2016.