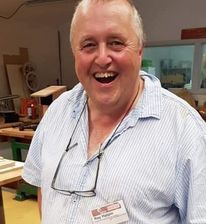 Maker of jewellery boxes and furniture
Raymond Halpin was born in Dublin and has lived in Canberra since 1989. I have been a member of the Guild since 2006.
I had no formal training in woodwork at school. I have won a number of prizes in Guild Exhibitions over the past few years and I make jewellery boxes and furniture. I undertake commissions, the most recent being presentation trays for the Office of the Governor General. I have learned most of skills through the Guild and I can recommend Woodcraft Guild ACT to anybody wishing to embark on a woodwork odyssey. I have run workshops in box making and furniture making at the Guild.
I use the name Suntasach for my woodwork. People ask what does the name Suntasach mean. The name Suntasach arose from visit from a friend from the UK to the "Warrumbungle's", a mountain range in NSW. The scenery gave rise to the frequent comment, "that's impressive" from the visitor. I chose Suntasach the Irish Gaelic form of the word for impressive as the name for my woodwork.
You can follow Suntasach on Instagram to see all my latest work.
Raymond Halpin