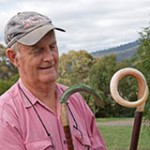 Walking sticks and magic wands
From my childhood days growing up on a rural property in Northern NSW I've always had an interest in working with wood. At school I excelled at woodwork, however, I never pursued this skill until my forced retirement in 2005 as a result of knee and hip replacements. When told of the need for knee and hip replacements I said to my wife Rie " I guess I'll be on a stick for a while so I'll make myself one."
The stick I made had a brown snake carved on the shaft with a cow horn handle, done with a pocket knife, file and sandpaper. The surgeon was so impressed that he wanted me to make more so he could sell them at his surgery. Whilst I didn't take up his offer at the time it did inspire me to do some research and start making sticks in my retirement.
 Since retiring, stick making, and more recently Harry Potter Style Wands, has become an artistic outlet for me which combines craftsmanship and creativity to produce some unique pieces. I specialise in featuring carved Rams, Cow and Buffalo Horn including Deer Antler on the handles of sticks with the wooden shafts made from some of the finest of Australian timbers.
 I've been a Guild member since 2009 and from the exposure of my sticks at the Guild's exhibitions and shows along with word of mouth and private commissions my sticks and wands are now residing in many countries throughout the world.
 Feel free to contact me at billhodgetts@bigpond.com