The Guild Library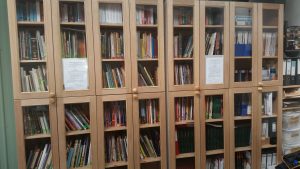 The Guild maintains a modest, but pertinent, collection of books, periodicals, and videos relating to all aspects of woodworking.  For ease of reference, the book collection is organised into subject categories reflecting the Special Interest Groups within the Guild, plus sections for specialized subjects like tool sharpening, finishes and wood identification. The Guild also subscribes to Australian and international woodworking magazines, the current issues of which are made available at the Shed for members to read.  Past issues are bound into volumes and retained in the Library for reference purposes – we hold complete collections of most of these periodicals.
Guild members may borrow items from the library at any time when the Shed is open. We levy a small borrowing fee to help fund the purchase of new items.  A significant proportion of the collection has been donated to the Guild by members and the families of former members.
The following catalogues are available to members.
The Guild Librarian is Colin Parkinson and can be contacted at librarian@woodcraftguild.org.au
We encourage members to consider our Library when rationalizing their private holdings of woodworking books and videos. 
Presentations & Articles
Please provide feedback on what references or particular areas of interest you would like to see here.