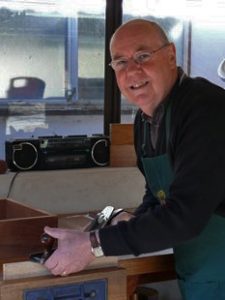 Fine furniture and box maker
I first started working with wood at School in the early 1960s but then did not do any more until the mid 1990s when I started attending the Visual Arts Access program at the ANU School of Art Woodwork Shop.  Under the guidance of tutors who had trained in the Diploma and Degree courses I started to gain a better appreciation of the requirements of fine woodwork.  Over a period of several years I continued attending these courses and gradually developed my own hand skills and began to extend the range of projects.  I began with making jewellery boxes for family members and friends and gradually began selling these through various galleries and at Craft Shows in Sydney and Canberra.  Over the years I have made boxes for the Brazilian and Irish Ambassadors and my boxes have been awarded numerous prizes in the Guild's annual exhibition.
I then moved into making furniture on commission for several clients over a period now of more than ten years and continue to receive requests for special pieces.  The design of these pieces is, functional and mostly based on the customer's preferences.  My focus is on getting the details right and making pieces to a high standard of workmanship with hand cut joinery where this is appropriate.  I also run classes through the Guild.  These include  box-making,  furniture, chairs, wooden hand planes and workbenches.  I enjoy teaching for the discipline it instils in my own thinking about various methods and processes and for the pleasure in seeing others develop and enjoy new skills.
My current focus is on extending my knowledge and techniques to broaden design possibilities.  Hence my recent interest in laminated work and steam bending which was applied in a recent (late 2012) Windsor Chair making course at Kioloa.