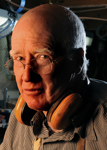 Award winning sculptor
John Murphy is a retiree turned hobbyist specialising in wood artistry. His award winning sculptures and walking sticks, feature natural forms, often ducks, fish, and parts of life sized humans. They are sculpted by hand resulting in sensuous and tactile piece of wood art. More recently John's   figurative sculpturing style has developed from relatively small works into larger and more exotic pieces
John has exhibited his work locally and interstate and has won numerous prizes and awards. He is a passionate sculptor whose work has begun to investigate themes and subjects that can at times be confrontational and non-conformist. These are unusual and appealing artworks that are captivating to the eye and to the touch. While John's long career in the Foreign Service drew him away from his country roots, his deep connection to the culture and landscape of his youth has had a resounding influence on him and today shapes his artistic lens.
Educated at Yanco Agricultural College, John spent his early years working on his family farm and pursued an apprenticeship at a sawmill in Tumut. It was there he first developed a rich understanding of and feel for his future artistic medium. Following more than two decades of living and working overseas experiencing life across many cultures, retirement at home enabled John to rediscover his youthful association with nature reigniting his interest in working with wood and sparking a new passion for wood art.
John began by shaping pieces out of exotic timbers fostering his interest in creating uniquely decorative yet practical walking sticks which remains one of his core activities. Primarily focusing on the very humble duck as his model, he set about developing his own style revealing the diversity and character of these captivating creatures – John has passionately created pieces in styles ranging from the very simple to the flamboyant art-nouveau.
John passed away in October 2020