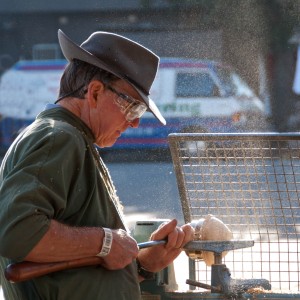 Turning, boxes and marquetry
I first joined "The Wood Group of the ACT"  (then part of the Crafts Council) in the early 1980s. I was involved in  creating The Woodcraft Guild as an independent organisation and was editor of the first volume  of the Guild Newsletter in 1986. Work and family commitments then took over my life until after retirement. By the time I had re-joined in 2005, membership of the Guild had increased to over 200 and a magnificent Shed had been constructed in which to meet, undertake projects and learn new skills.
I have taken full advantage of the courses and workshops on offer at the Guild. Courses offered by world renowned woodturner, teacher and author Richard Raffan (a member of the Guild) have allowed me to build a good set of skills in turning. In a similar way, courses offered in box making by Fred Buckley have assisted me and many other members over the years to lift our skills to a new level.
I have won a number of prizes in Guild Exhibitions over the past few years and and have used the experience gained to apply innovative design ideas to commissioned pieces. I try to combine a range of skills acquired over many years including woodturning, box making, marquetry and furniture.